It's Time to Transform Your Kitchen Cabinets
You've found the best cabinet painters in Orlando and surrounding areas. We specialize in cabinet painting, cabinet refinishing, cabinet staining and cabinet glazing. If you're looking to update your cabinets and bring them back to life, then you've come to the right place. Cabinet painting and cabinet refinishing is highly technical and requires an experienced cabinet painter to get the job done right. This is also true for cabinet glazing and cabinet staining. Whether you'd like to freshen up or completely transform their color, you can. Give us a call to get started with a FREE Estimate: 407-537-0715
"It was an absolute pleasure working with Premier Cabinet Painting. It was a relief to get an immediate response from them after having another company be a no show for their estimate. Within a few hours I received an estimate and I knew this was the company to hire. We had them refinish our kitchen cabinets and add a pinstripe glaze around the perimeter of the cabinets. The result is amazing and they were finished in under a week. Their cabinet painters showed profound respect for our home and I could leave the house while they worked. The way they handled our cabinets and their body gestures indicated that they genuinely cared. Highly recommended to anyone looking to get their cabinets refinished. I don't believe there is a better company to go with for a job like this!"

Jennifer L.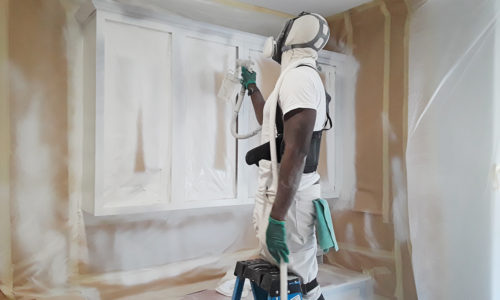 Cabinet Refinishing Orlando Options
Here's your options when it comes to updating your cabinets
1.) Cabinet Painting
Completely transform your cabinets to any color you desire with our skilled cabinet painters. This is by far the most popular option for homeowners around Orlando in 2018.
2.) Cabinet Staining
Keeping the original wood grain visible you can simply change the look of your cabinets to a darker tone. This is ideal for customers who want to keep that natural wooden look but want something new.
3.) Cabinet Glazing
Add a nice pinstripe to accentuate the profile of your cabinets or add a shade to the entire door.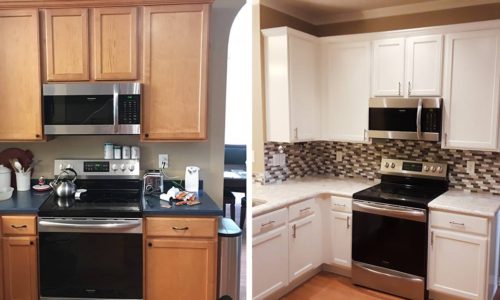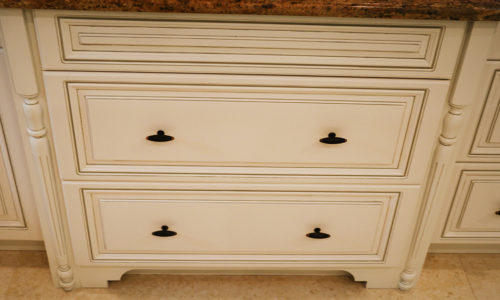 What is Cabinet Glazing?
When we ask most homeowners if they would like cabinet glazing done they are often unsure what it is. Cabinet glazing is typically used on the cabinets to accentuate the architectural details of the cabinets. Many times, this is done by adding a second color as a pin-stripe in the grooves of the cabinets. You have the option to add a single line of glaze or as many stripes as there are groves on the cabinets. If you're looking to add a little "something something" to your cabinets then this can really do the trick.
Another option of cabinet glazing is having a subtle shade on the front panels of the cabinet door and drawer covers. The glaze is applied to the entire door and drawer cover and then wiped off to give a nice shading effect. This can really add a unique finish and make your cabinets special to you. To glaze or not to glaze, that is the question. If you're looking for a traditional look then this is a great option. We suggest skipping the cabinet glaze if you are trying to update your cabinets with a more modern look.
Orlando's Best Cabinet Painters
Our cabinet painters use the best cabinet painting and cabinet refinishing products and processes. The cabinet painters we send to your home will be the very best at their craft. Many contractors offer painting services but we're the only company to choose for cabinet painting and cabinet refinishing. Your average painting contractor in Orlando will struggle to deliver the efficiency and factory like finish that we do.
Address: 1800 Pembrook Drive, Suite 300, Orlando, Florida, 32810