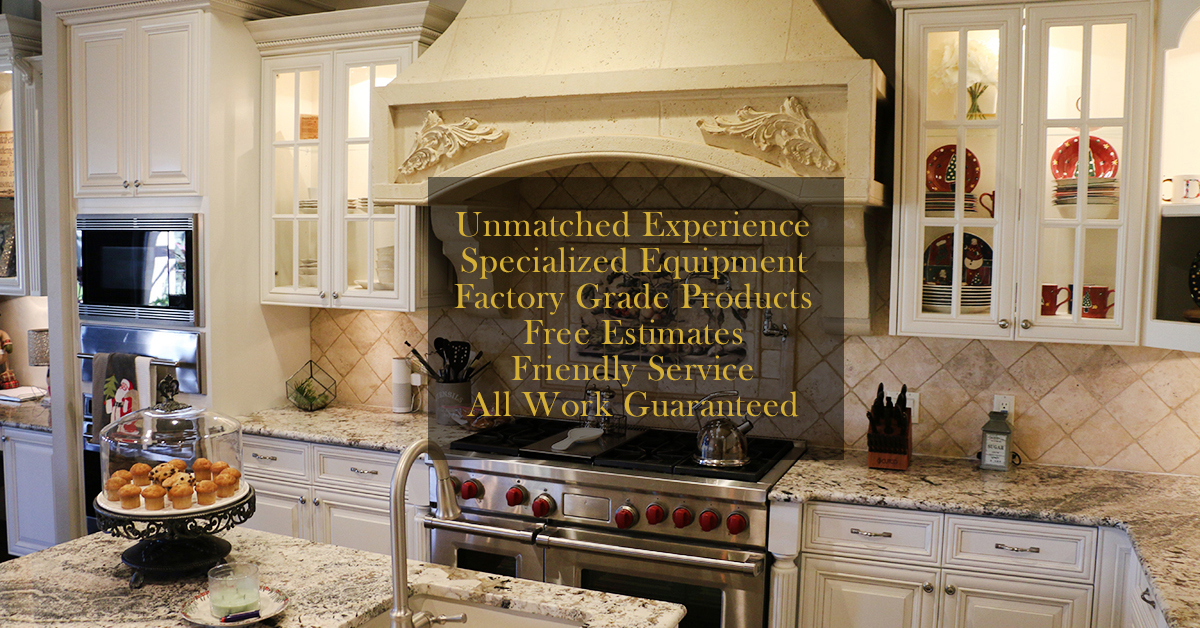 Like Us On Facebook To See Our Work
Premier Cabinet Painting and Refinishing specializes in painting and refinishing the cabinets in your home whether it's your kitchen cabinets, bathroom or entertainment center. Today, many homeowners are demanding solid color finishes like white, gray and soft shades along with darker stained wood tones. These are classic colors and finishes that will always be in style. The light oak color of the 1990's is now outdated.  Whether you're looking to give your home a new updated feel or restore the luster and put the sparkle back into your tired cabinets, painting and refinishing them will surely do the trick.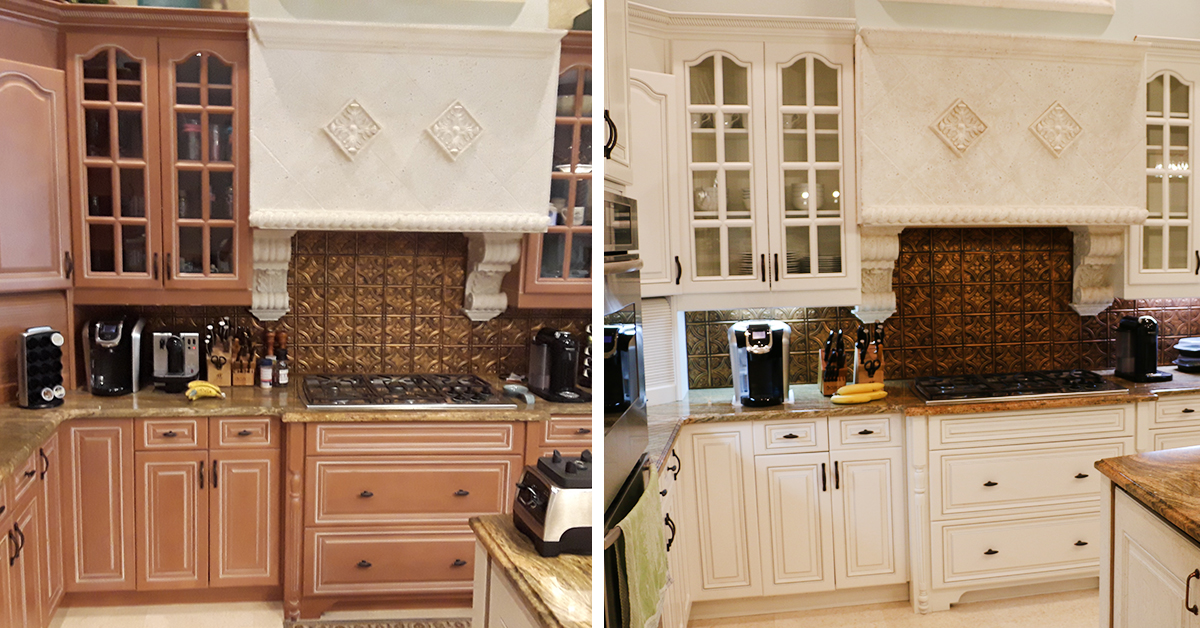 Cabinet Refinishing
Don't let anyone refinish or paint your cabinets.
Cabinet painting and cabinet refinishing require a higher-level of skill than what most house painting companies have. Most painters can brush and roll the interior walls or exterior of your house. But when it comes to spraying a fine finish on an unforgiving surface like your cabinets, they often struggle. So please don't chance your cabinets to amateurs and let us help you get the perfect finish on your cabinets.  Your kitchen cabinets are constantly being opened, closed and touched so it's important that you have the job done right so the beauty and protection lasts.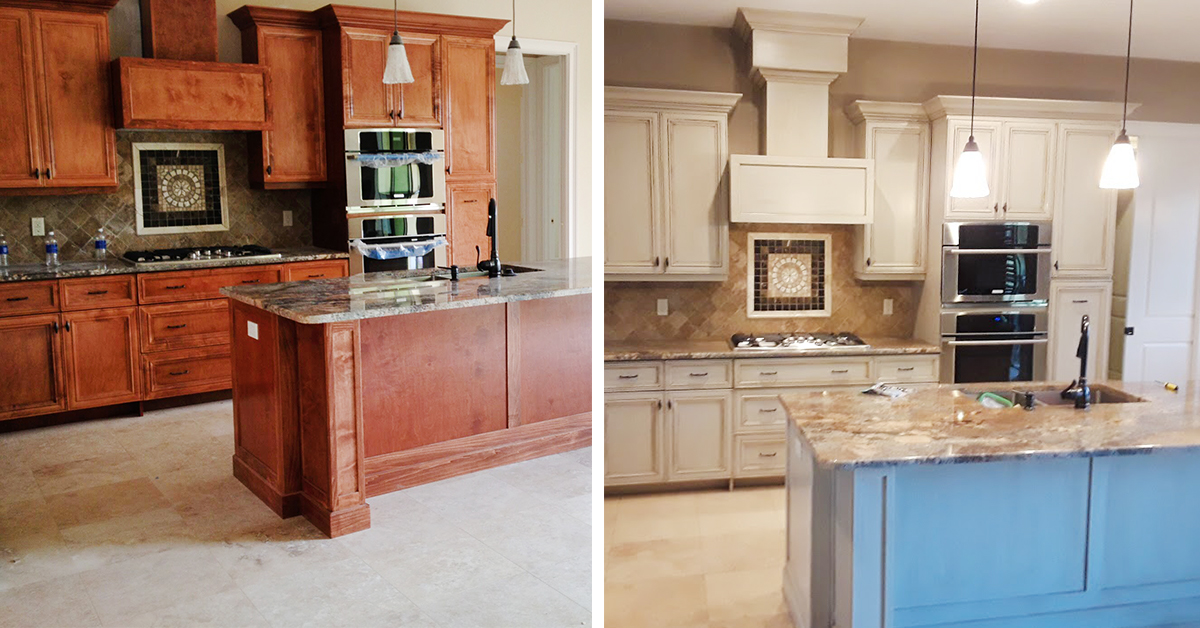 Cabinet Refacing or Cabinet Resurfacing
If your cabinet doors are not suitable for refinishing or you don't like the style of doors you have then cabinet refacing may be a good option for you. Our cabinet refacing option gives you the best of both worlds. New cabinet doors and the savings of painted frames.
What we do. First, we help you select a new cabinet door style and color that you like. Then measure and order brand new cabinet doors. Meanwhile, in the kitchen we paint or refinish the cabinet frames to exactly match the new door color. In the matter of just a few days you can have totally updated kitchen cabinets.
Our hybrid painting and cabinet refacing system differs from traditional cabinet resurfacing. Instead of veneering the cabinet frames we paint them. This difference is enough to save you thousands of dollars and gets you the same result. Learn more about cabinet resurfacing.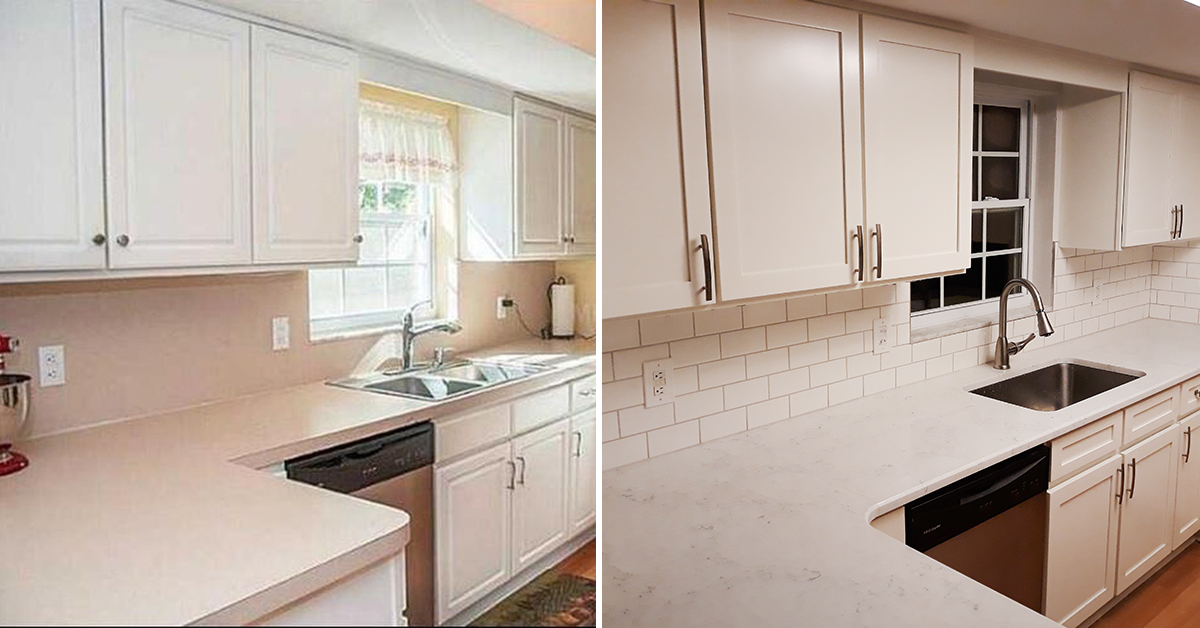 Is Cabinet Painting Is A Good Option For You?
When comparing cabinet painting to the alternatives like cabinet refacing where the costs are much greater, about 3x greater. Plus, refacing doesn't last as long as a quality painted surface. If your cabinets are in good shape and you're just tired of the color, painting and updating the hardware is more economical and durable. Your cabinets will look brand new like they came from the factory when they're finished by Premier Cabinet Painting & Refinishing.
Kitchen renovations are often the most expensive of all home improvement projects.  So, if you're looking to get a fresh look for your kitchen without breaking the bank, you can with cabinet painting.  The cabinets in your kitchen are the main focal point that will make or break the mood for the entire room.  If you aren't happy with the mood you have now then painting and refinishing may be a good option for you.
Why Choose Us?
We're Done In Days Not Weeks
Committed To Delivering Top Quality Work
Deliver Friendly Customer Service
Workmanship Warranty
Utilize The Best Processes And Products
Upfront And Competitive Pricing