Is it time to update your kitchen?
Then you've found a specialty cabinet painting and cabinet refinishing company that only work with best cabinet painters in Saint Petersburg. Maybe your cabinets are worn and outdated and you'd like to put the sparkle back into them. Then you really should consider our cabinet painting and cabinet refinishing services amongst all others. Whether you're looking to freshen up the current look of your kitchen and bathroom cabinets or completely transform their color, our cabinet painters and cabinet refinishing experts will make it happen.
"Tomily came out to our home and went over everything we wanted in detail. We choose our colors from a big box store and he matched them perfectly in a better quality paint. He came out again on the day they were to start and walked the home with me and his painter to ensure we had it all correct. They began working and were extremely professional. They always made sure I knew what they were doing and how long it would take. They finished the job ahead of schedule. We couldn't be happier with the turnout. They went above and beyond and are the only painter we will ever use. Not too mention, we have referred them out to clients and friends and have heard nothing but great things! Thank you for making us look great, both in our referrals and our home!"
– Elaine Calello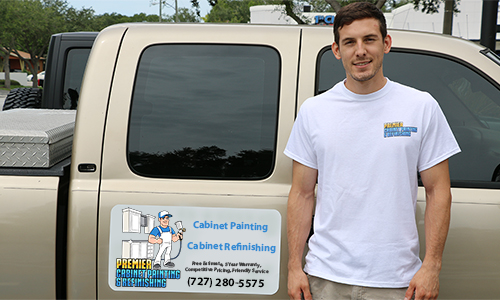 Lead Cabinet Painter – Tomily Bourgoing
Cabinet Refinishing Saint Petersburg Options
There are three different options to refinishing cabinets:
1.) Simple Refinish
If you like the color of your cabinets but they are faded and dated then give them that sparkle they once had with a simple finish. There is no color change and can be done in a few short days.
2.) Color Toning
Keeping the original wood grain visible you can simply change the look of your cabinets to a darker tone. This is ideal for customers who want to keep that natural wooden look but want something new.
3.) Color Transformation
The most dramatic change is cabinet painting. Here you can make your kitchen any solid color you wish with our skilled cabinet painters. This is by far the most popular option for homeowners around Saint Petersburg in 2017.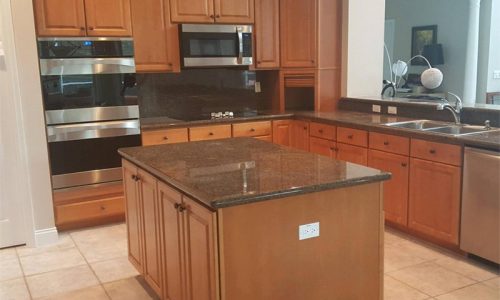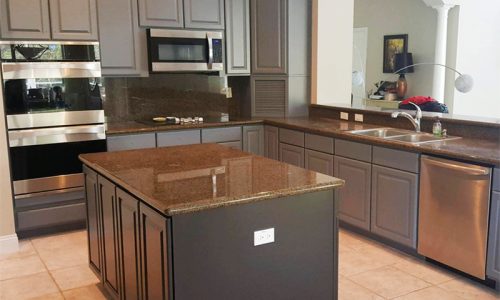 Cabinet Refacing or Resurfacing
Before you consider cabinet refacing in Saint Petersburg its worthwhile to see if we can satisfy you with our services because it can save you quite a bit of money. Plus, when your cabinets are painted or refinished correctly they will cost less, look better and last longer than refacing your cabinets.
Your cabinet refacing cost will approximately be 3x more than painting or refinishing them. Exact numbers will vary between kitchen size and cabinet quality. You can call us now for a free cabinet painting or cabinet refinishing estimate! (727) 280-5575
Every one of our cabinet painters are trained to utilize the best cabinet painting and cabinet refinishing process and products. We only send the best cabinet painters into your home to do the job. There are many contractors available to you but they do not specialize in cabinet painting and cabinet refinishing like we do. The typical painting company around Saint Petersburg won't possess the skills or knowledge to deliver the efficiency with the quality finish that we do.
930 85th Ave N, Saint Petersburg, FL. 33702